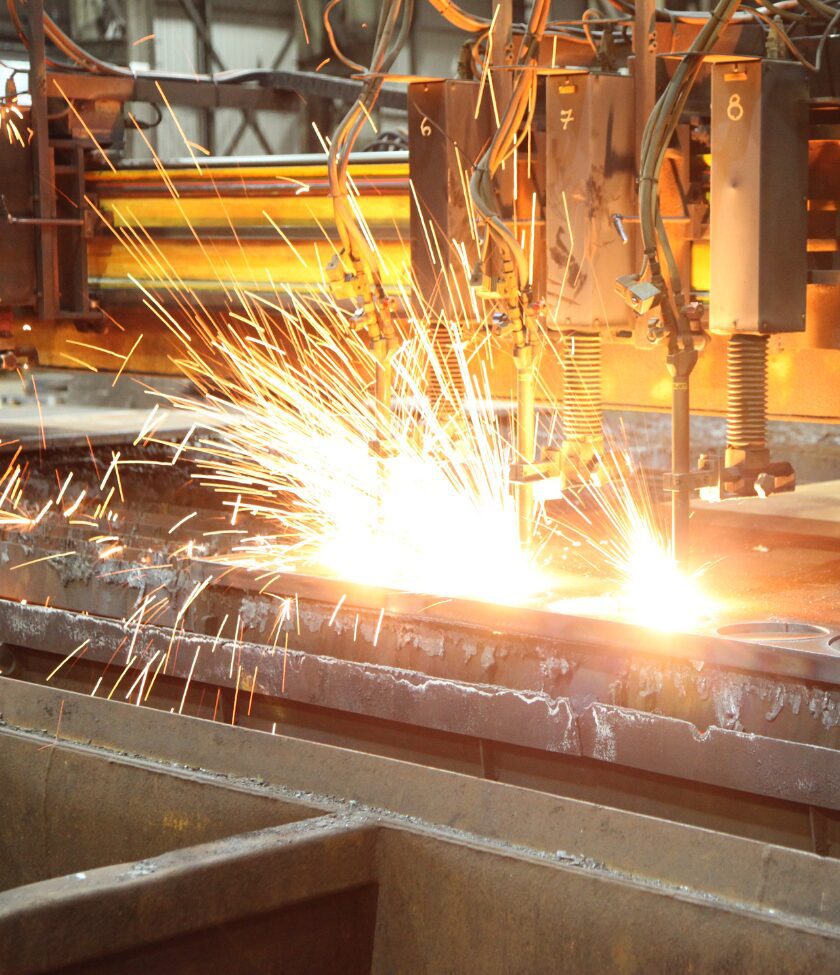 Here at Brown McFarlane we are extremley delighted to introduce the latest addition to our range of steel processing options;  a fully CNC enabled Messer OmniMat® L Gas Profiler and Drill Machine. The latest addition enables Brown McFarlane to increase its offering to the UK's construction sector in line with EN1090 Execution Class 4, as well as offering drilled or bored holes to all other sectors.
See more below… 
Inline gas profiling and mechanical drilling of steel
Drill up to 34mm dia / 34-103mm dia bore cut and bore in steel plate up to 150mm thick
Drill mild steel up to 600n/mm2 UTS & 1.4301 and 1.4404
Drill machine meets "no heat" requirements of EN1090 execution classes 3 and 4
Countersunk holes available
Gas 4.2m wide – length to 16m
Gas cutting up to 450mm with up to 6 torches
More information
Gas Machine offering: 
-Auto height sensing, ignition and piercing 
-Multi head cutting, up to 6 torches 
-Cuts up to 450mm thick carbon steel 
-Processes up to 4.2m wide & up to 16m long plate Fully CNC enabled
Drilling capability: 
– Drilling & boring capability up to 103mm dia holes and 150mm thick 
-Drill mild steel up to 600n/mm2 UTS 
-No heat affected zones 
-Countersunk holes available 
-12x multi-change drill options
The Process
Steel plate drilling is a cold cutting process that utilises a drill bit in order to cut or enlarge a small circular hole within a solid work-piece. The drill bit will typically be a multi-point rotary cutting tool, which is pressed against the steel and rotated at thousands of revolutions per minute. This action forces the cutting edge away from the material and removes any chips from the hole as it is drilled. A drilled hole is largely characterised by the sharp edge on the entrance side.
Drilling larger holes into steel plate is also available from Brown McFarlane upon request.